Wines, sausages, Nestlé.
At first glance, Delphine Morel's winery in Chardonne is hardly different from any other. At least not as far as the history is concerned: great-grandfather runs a mixed business with agriculture, grandfather increasingly focuses on the vines, father consolidates the whole thing, builds a new cellar building including a tasting room. Above all, he hands over the "Cave Morel" in good time to his daughter, who is excellently trained as an oenologist. Nevertheless, there are a few special features: as a part-time butcher, the grandfather turned pigs into sausages twice a week. He then sold them to private individuals and the local trade. He used the proceeds to expand his vineyard. And Delphine's career was not as straightforward as one might think. She first spent a few years doing commercial work in a Nestlé office.
Chasselas, but not only.
Delphine's range of wines is quite typical of the region. Chasselas plays first fiddle. Nevertheless, there are very different bottles of it, because they not only cultivate vines in Chardonne and St. Saphorin, but also in the Chablais, which is a little further away. The cult variety Pinot Noir is also in the range, although not as prominent. In addition, Delphine cultivates some original specialities, such as Galotta, a red cross with Gamay. Or the Loire variety Chenin blanc, which is rare in Lavaux. "What I like about it is that it can be vinified both dry and residually sweet." In total, Delphine processes the yield of 6.5 hectares. That's a lot to do. Fortunately, her parents Jean-François and Isabelle are still helping out.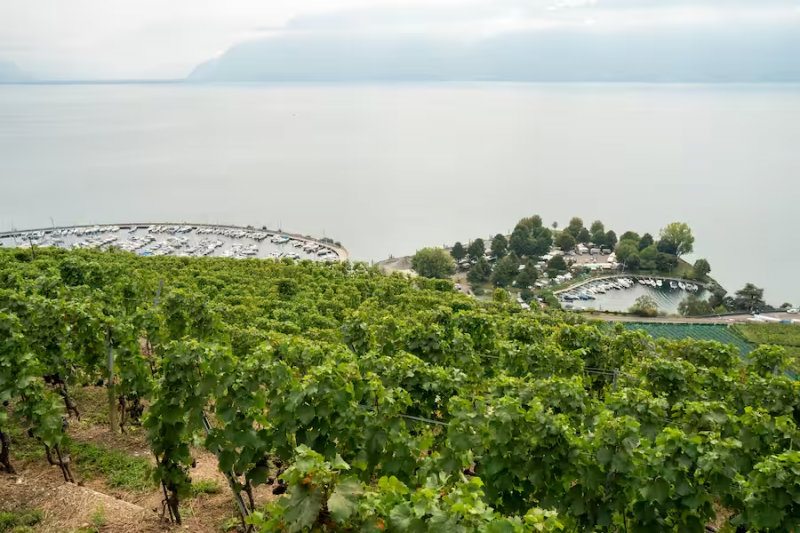 Land of enchantment
"It's a privilege to be able to work here." Delphine is standing in the steep vineyard, behind her the lake and the marina "La Pichette" flash in front of her. But Lavaux is also famous for its culinary delicacies. For example, the pâtés sold by Julien Mothez at the Boucherie Nardi in Jongny. "Everything is handmade. We have a skilled worker who only makes the pâtés." Delphine adds, "For me, clearly the best in the area." She is also a regular customer at the Bidlingmeyer bakery in Chexbres. Here she is particularly taken with the taillés aux greubons, which could be translated as crackling slices. There is an adjoining café with a terrace. The portrait of General Guisan, which used to be obligatory, still hangs on the wall.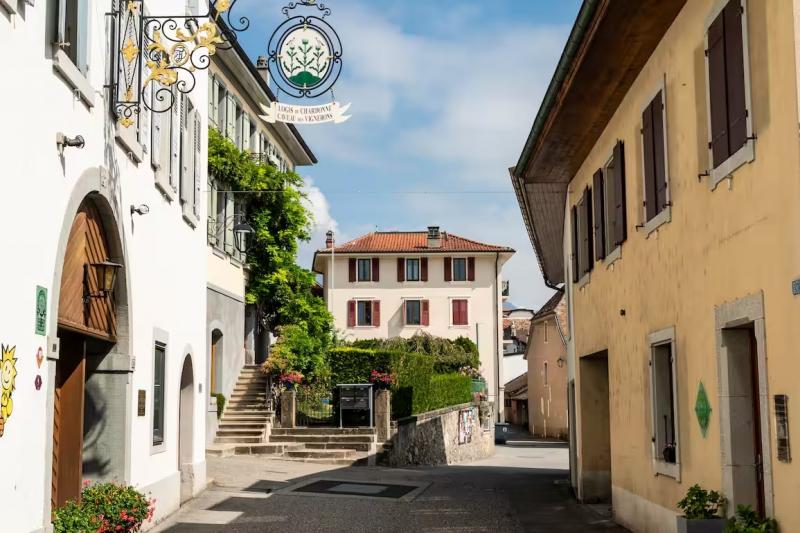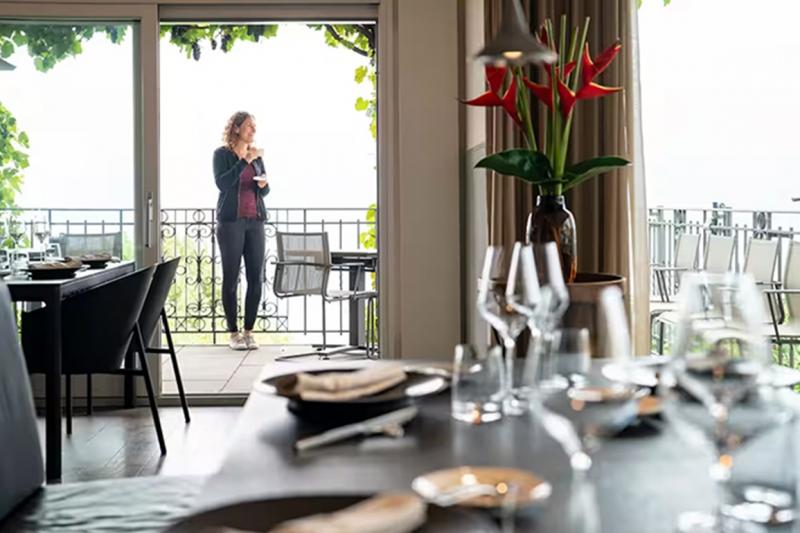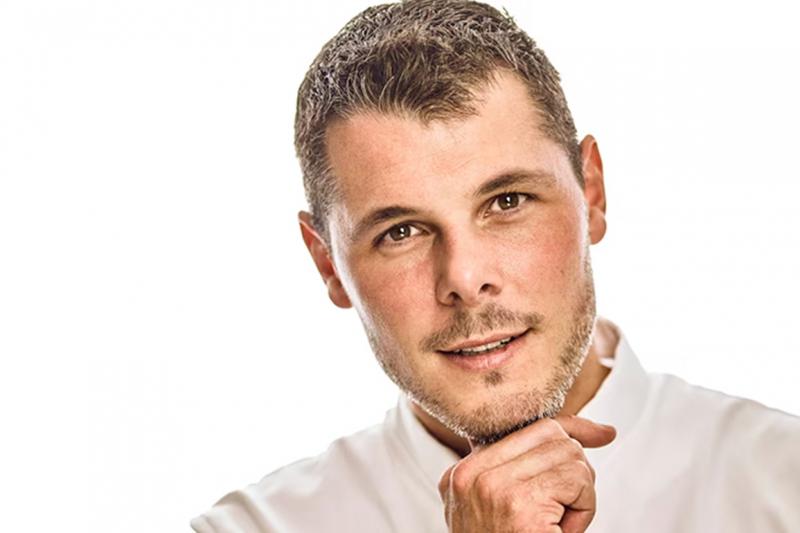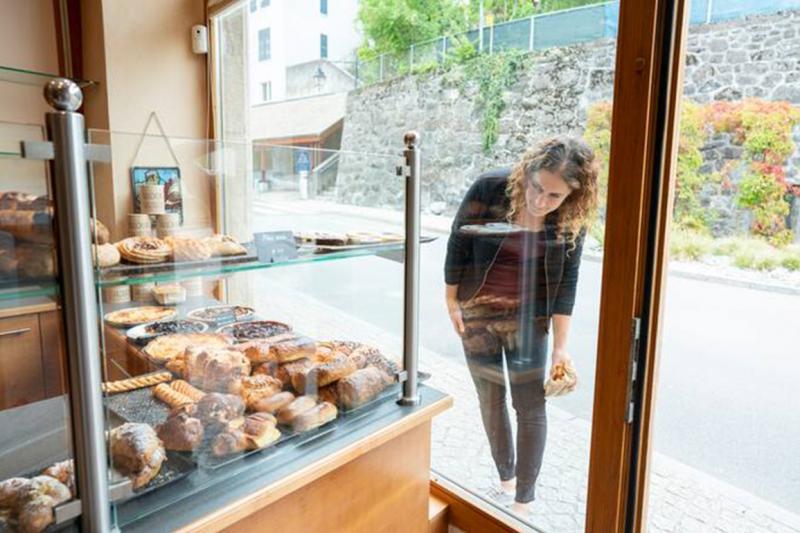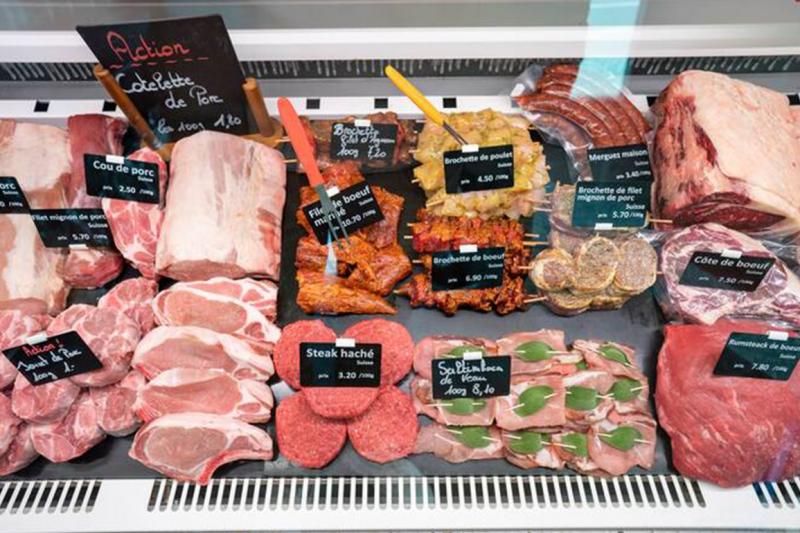 Previous
Next
Paradise on earth
Cooking for oneself is not always an issue. Fortunately, someone once invented the restaurant for this case. We are sitting in the Lion d'Or in Chexbres, a down-to-earth restaurant with no-frills good food. Of course, people here know Delphine and her wines. The atmosphere is relaxed, the jerseys of Italian football clubs hang on the wall. Sometimes there is something to celebrate and you want to treat yourself to a high-class restaurant. That's where the "Là-Haut" in Chardonne comes in. Here Mathieu Bruno cooks to the level of 16 points. The view from the terrace is fantastic. Of course, Delphine's bottles are also on the shelves at "Là-Haut". At the end of our tour, we go to one of Delphine's vineyards again. The little vineyard house pleases with its retro chic. Nothing has been changed in the atmospheric interior for many decades - fortunately. Above the entrance hangs an inscription that hits the nail on the head: "If there's a paradise on earth, it's here."
Original text in German:
Stephan Thomas for Gault & Millau