My day in Montreux
We are off on a day trip to Montreux, a charming little town on the lake that has become world famous for its
jazz festival
. Arriving by train, we go down the couple of steps that separate us from the platform and we already know why this place is called "the pearl of Lake Geneva". There are flowers everywhere, an incredible view over the nearby mountains and numerous buildings in Belle Epoque style that give you the feeling you have stepped back in time. Let's go and find out what lies behind the fantastic first impression!
The Old Town of Montreux, its cobbled streets and winemakers' houses from the 18th century. Located about 15 minutes on foot from the lake shore, on the slopes, it is the perfect place for a lazy stroll.
A real icon of the region,
the Chateau de Chillon
has had pride of place on its little rocky island since the 12th century. It is the most visited historic monument in Switzerland.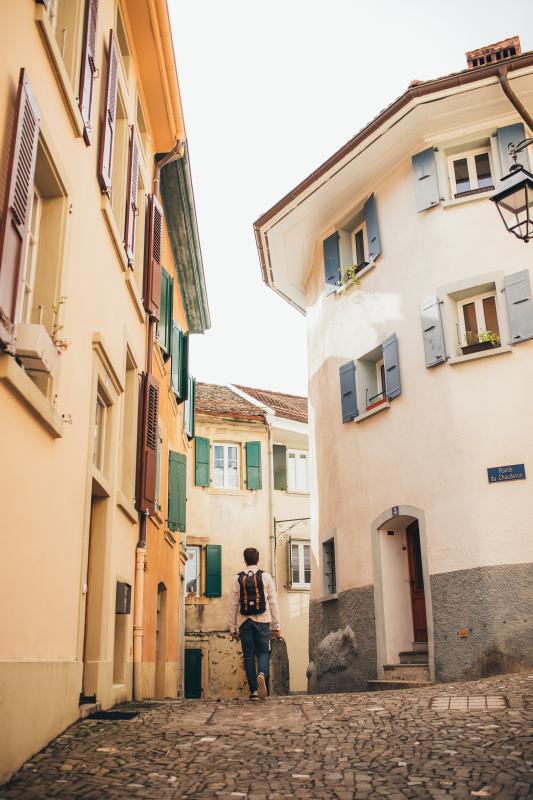 "Among the palm trees, old stones and exceptional view, Montreux manages to combine pomp and authenticity with rare elegance."
4. Towards Territet
The plan: a twenty-minute walk to reach Territet. You just have to follow the little pedestrian path that runs along the lakeside. It doesn't get much better than this.
8. Going down on foot
Follow the Sentier de Baumes, then the Sentier du Mont-Fleuri, cross the Route de Glion and go back up a little to take the Vieux-Chemin-Montreux-Glion as far as the Rue du Temple. A great walk after a big meal!
9. Temple St-Vincent
A splendid 16th century building named after the patron saint of winemakers. Not surprising for a part of the country that produces so many excellent vintages!